This is just one of many examples when bus stops have become neglected over the time.
The bus stop is located in the Northern side of Garegin Nzhdeh square. Many urban and suburban buses stop here and make this place always cramped up. Noise is the part of an everyday life here.
There is a small shelter in the gap between the metro entrance and road. Bus stop shelter can be only accessed from the road, so people have to walk between the cars and wait for bus on the busy road.
Why has this ended up like this?
Probably nobody knows the answer, but there is a possible explanation. In satellite pictures we can see that a bus stop on the Southern side of Garegin Nzhdeh Square has its own bus lane and it's properly located in front of the metro station.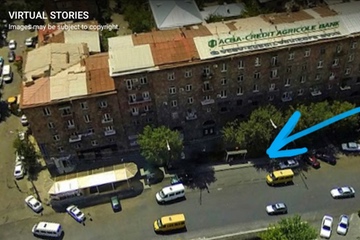 Northern bus stop has been moved to the street corner in order to make room for cars parking in front of a metro station. It seems that some years ago local authorities preferred comfort of car users to safety of commuters. Or more likely, it is a result of disorder.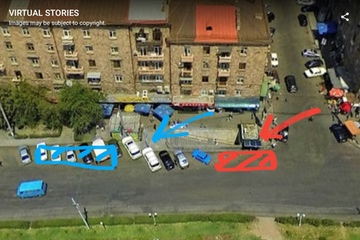 How to fix that?
The city council of Yerevan has been upgrading streets and removing illegal buildings and businesses from pavements. We hope that bus stops upgrade is in the agenda too. Four steps must be done to improve quality of this stop and many others.
Move the bus shelter back to the proper position
Make bus lane markings on the road
Instruct bus drivers to stop only in the bus lane
Monitor the area and fine car drivers illegaly parking in the bus lane