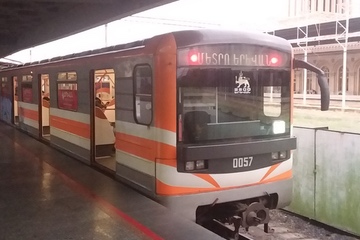 Yerevan Metro
Yerevan metro operates as a single line of 10 stations connecting Northern and Southern districts of Yerevan. The most of tourist spots are located around stations Yeritasardakan and Republic Square. There is also a metro station at Central Railway Station. Yerevan Metro was launched in 1981 and, like most former Soviet rapid transit systems, its stations are very deep (20–70 meters underground) and decorated with national motifs. Total length of the line is 13.4 kilometres. Currently there are two new stations under construction.
Operating hours
Yerevan metro trains run every day from 6.30am to 11pm.
Every 10 minutes between 6.30am and 8am.
Every 5 minutes between 8am and 8pm.
Every 10 minutes between 8pm and 11pm.
Metro tickets
A single metro journey costs 100 AMD. You need to buy a plastic token at a cash desk located in each metro entrance hall. Then use the token to open a ticket gate in order to reach station's platform.