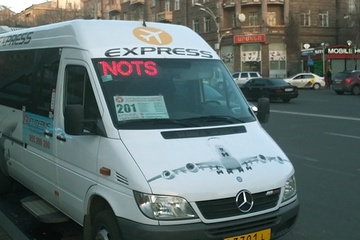 Yerevan Airport Shuttle Bus
Shuttle bus service between Zvartnots International Airport and Yerevan City runs 24/7 and a single ticket costs 300 AMD. The payment can be made in cash in AMD or by credit card. Distance between Zvartnots International Airport and city of Yerevan is about 12 km and length of the shuttle bus journey in about 20 minutes. Please, have small change ready when boarding the bus in order to make cash handling easier. Small shuttle buses meet international standards and are equipped with air-condition.
Location of Shuttle Bus stops
There is a marked shuttle bus stop right in front of the airport terminal building. When you travel to the airport take the bus from Yeritasardakan, bus stop is at an entrance to Metronome shopping mall on the corner of Isahakyan and Abovyan Street. You can also wait for the bus at bus stops Amiryan Street or Pak Shuka, but remember that you have to give a signal to a driver when the bus is approaching.
Where to stay in Yerevan
You will find the best hostels, private rooms and hotels on Agoda, see Accommodation in Yerevan.