Don't get ripped off
Your very first day in Armenia can get a bitter feeling. Everything seems to be fine when Ryanair night flight drops you off at cosy Zvartnots Airport. Your feelings would change when you leave the terminal and some man starts chasing you and offer a taxi ride for 10 Euros saying there is no other option how to get to Yerevan. You might think it's not bad. But forget prices in Rome or Milano, you are in Yerevan now! And I guess you are not here to give your money into a pocket of someone who is cheating you, right? Be assertic and haggle over the price if needed. Standard market price for a taxi ride between the airport and Yerevan city centre is around 4 euros (2000 AMD). You can travel even cheaper! Airport shuttle bus runs frequently and fare is incredibly low, just 55 euro cents (300 AMD). See Yerevan Airport Shuttle Bus.
Avoid illegal taxi
There are taxis parking in front of bus stations and drivers offer rides to incoming travellers. If you do not have a serious reason, don't use their service. Most likely they are doing illegal business and causing troubles to the official public transport agencies. Don't talk to the taxi drivers and keep walking into the bus station where officially approved services run from.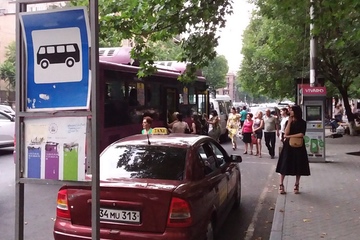 Bad boys at bus stops
In Yerevan you will see taxi parking at bus stops, right in front of people waiting for bus. These drivers are organised in mafia-like groups, frequently swap with colleagues in order to do short stops instead of permanent parking at bus stops. Sure this is illegal. They block access to the platform, so buses stop and open doors in the middle of roads. Passengers have to take a huge risk every single day when they board and disembark buses, disable people are completely unable to use buses in a such situation. It also causes problems with traffic flow in rush hours. Taxi drivers parking at bus stops are ignorants who deserve the only thing - Never give them your money!
Taking taxi in Yerevan
If you need a taxi ride in Yerevan use these great apps GG Taxi or Yandex Taxi. You can also use taxi parking on the marked taxi stands. Young people in Yerevan speak English quite well. So if you need a help with communication with a taxi driver just ask some passer-by.
Taking taxi in rural Armenia
Taxi drivers outside Yerevan do fair business. If you can't use ride hailing app or there is no public transport, don't hesitate to ask locals. They don't speak English, but they are patient in finding a way to understand you.
Standard taxi fares
Before you visit Yerevan it is good to become familiar with local taxi fares. Here is a list of standard taxi fares on selected routes. Updated in September 2019.
Zvartnots International Airport - Yerevan City Centre
Journey time: 20 min
Appox. price: 2.000 AMD (4 EUR)
Central Railway Station - Yerevan City Centre
Journey time: 10 min
Appox. price: 1.000 AMD (2 EUR)
Kilikia Bus Station - Yerevan City Centre
Journey time: 10 min
Appox. price: 1.000 AMD (2 EUR)
Sevan Monastery - Yerevan City Centre 
Journey time: 70 min
Appox. price: 7.000 AMD (14 EUR)
Etchmiadzin - Yerevan City Centre
Journey time: 40 min
Appox. price: 2.500 AMD (5 EUR)
Abovyan - Yerevan City Centre
Journey time: 35 min
Appox. price: 2.000 AMD (4 EUR)
Author: Patrik